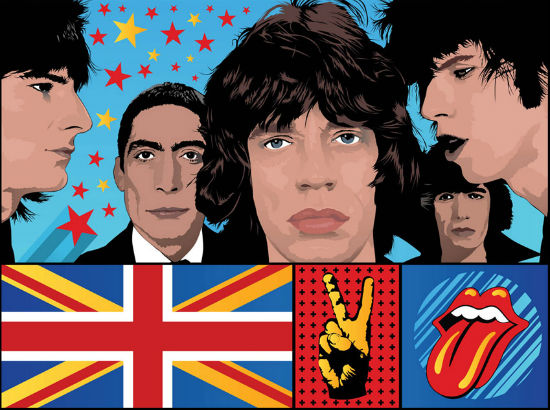 Nel panorama internazionale del rock, i Rolling Stones ricoprono un ruolo importante tra le band che per prime sperimentarono i nuovi ritmi travolgenti e strong di un genere musicale tuttora diffuso e amato. Il gruppo inglese, composto da Mick Jagger, Keith Richards, Ronnie Wood (che sostituì Mick Taylor, a sua volta sostituto di Brian Jones) e Charlie Watts, si è contraddistinto per le canzoni trasgressive e ribelli, in netta contrapposizione con il ritmo più rassicurante dei Beatles (spesso l'antitesi era voluta dalla stessa band). La loro musica del resto rispecchiava il loro stile di vita, eccessivo e provocatorio, legato a droga e violenza, divenendo un fenomeno di costume importante e unico.
Il loro primo album è stato pubblicato nel 1964 con il titolo "Rolling Stones", in realtà una rielaborazione di alcuni grandi classici del rhythm and blues e del rock 'n' roll, ma presenta anche il primo brano firmato Jagger e Richard: "Tell Me". Ma è l'anno dopo, il 1965, a segnare l'inizio l'inizio del mito degli Stones, grazie a una serie di singoli pubblicati nell'anno: "The Last Time" (febbraio), "(I Can't Get No) Satisfaction" (maggio) e "Get Off Of My Cloud" (settembre). In pochissimo tempo la fama degli stones cresce e lo scandalo si estende, oltre ai brani, anche ai loro concerti, caratterizzati spesso da episodi di risse e violenza. Soggetti delle loro canzoni sono personaggi poco raccomandabili (squilibrati, tossicomani psicopatici, prostitute, delinquenti) ma vengono scritte e pubblicate anche delle ballate commuoventi come "Play With Fire" e "As Tears Go By".
Il primo album degli Stones a contenere solo brani scritti dalla coppia Jagger/Richards è Aftermath (1966), cui seguirono più di 60 album. Una serie di disgrazie, in primis nel 1969la morte ancora poco chiara di Bria n Jones, uno dei fondatori della band, non fermano il successo del gruppo, che ha sempre saputo aggiornarsi coi tempi senza perdere quel legame speciale con il vero rock degli esordi.